Maude Valérie White
Composer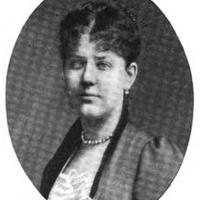 Maude Valérie White
1855 - 1937
Forgotten Voices
In 1903, respected critic J. A. Fuller Maitland declared Maude Valérie White's songs to be 'known and loved everywhere the English language is spoken'. Passionate and emotionally 'unashamed', White developed a distinctive musical voice, especially evident in her song composition. White became an influential figure within the English Musical Renaissance, furthering the development of twentieth-century English art-song and influencing the work of Roger Quilter and Ralph Vaughan-Williams. Derek Hyde, Sophie Fuller and Eugene Gates have made important steps to rediscover White's fascinating life and music.
White was born to middle-class English parents in Normandy in 1855. The family had recently relocated from Chile and White's older siblings spoke mainly in Spanish. Within a year, they returned to England and White began her education with a German governess. In 1864, she joined a boy's school in Wolverhampton as the only female pupil, before completing her primary education in Paris. White's father died from Yellow Fever when she was thirteen, so she returned to live with the family of George Rose-Innes, by now fluent in French, German, Spanish, and English.
White began piano lessons with Ernst Pauer in 1868, who introduced her to Schumann's Lieder. Influenced by the Rose-Innes family, White also developed an interest in Italian opera – later recalling how she 'loved to try and make the piano a living and breathing human voice'. She began composing seriously at seventeen, producing a popular setting of Byron's 'Farewell, if ever fondest prayer' (1873). She described her writing style as improvisational, easily working out the text's 'natural' melody and harmony as she went along. Following harmony and counterpoint tuition with W. S. Rostro and Oliver May, White enrolled at the Royal Academy of Music in 1876 and continued to compose under George Macfarren and Frank Davenport.
At RAM, Macfarren encouraged White to pursue orchestral composition (praising, for example, her Rondo Scherzando of 1879). However, her passion resided in song, likely stemming from her extensive linguistic knowledge and appreciation for literature. Her early songs, 'Absent, Yet Present' (1880, Bulwer-Lytton), 'I Prithee send me back to my heart' (1880, Hughes), and 'My Soul is an enchanted boat' (1883, Shelley) spoke to the late nineteenth-century drawing-room ballad form, but already showed signs of stylistic innovation. White was exceptionally attentive to her texts, and recalls the intense effect of discovering Shelley's 'My Soul is an enchanted boat' in her memoires: the words 'evoked a vision of such ideal beauty, such ineffable happiness… I longed to make a casket to enshrine those words – a casket of music'.
Throughout her career White combined composition with travel throughout Europe, Scandinavia and even to South America. Her adventures inspired numerous compositions, including several German song collections – Zwei Lieder von Heine (1878), Maude Valerie White's Album of German Songs (1884), and Sechs Volkslieder (1893) – in which arpeggiated accompanying figures, extensive piano postludes, overlapping phrases, and the avoidance of trite cadences demonstrate her affinity for expansive nineteenth-century Lieder. This Romanticism similarly informed her English song composition, evident in the rhythmic propulsion and spacious phrases of 'So we'll go no more a'roving' (1888, Byron).
Regional folk tunes and rhythmic meters from Finland, North Africa, Hungary, Sweden and elsewhere enriched White's settings. This comes across even in her more traditional ballads, such as her simple setting of Shelley's 'To Mary' (1881) - a favourite of Queen Victoria – which she composed in Chile. Equally, White's renditions of Sully-Prudhomme's 'Ici bas' and 'Au bord de l'eau' (1887) highlight her textual sensitivity, resonating with Derek Hyde's conviction that she rescued art-song 'from the pernicious clutches of the Victorian ballad'. Indeed, her settings of Tennyson's 'In Memoriam' (1885) laid the groundwork for adventurous harmonic exploration and dissonance in 'Trois Chansons Tziganes' (Tolstoy in French translation, 1913); whilst White's later songs, 'Isaotta Blanzesmano' (d'Annunzio), 'Le Foyer' (1924, Verlaine) and 'La Flute Invisible' (1924, Hugo) reveal impressionist influences, with improvisatory passages and dream-like open fourths and fifths.
In addition to near two-hundred and fifty songs, White composed a ballet (The Enchanted Heart, 1912), a handful of choral works, pieces for piano (notably, Pictures from Abroad in 1892, and her Barcarolle in 1883), incidental music for plays, and an unfinished opera. Though hindered by sexist prejudices, even within her own family, White independently paved her way as a composer, teacher, translator, and writer – publishing numerous literary translations as well as two volumes of memoires: Friends and Memories (1914) and My Indian Summer (1932). She organised concerts of her own music until her death in 1937 and was a familiar name at the Henry Wood Promenade Concerts. Indeed, despite neglect in recent years, she remains one of the most performed female composers in Proms history.

© Rachel Howe, 2022
SCORES
Many scores for Maude Valérie White's work are available to view here.
Where can I listen to Maude Valérie White's songs?
Listen to 'So we'll go no move a'roving' here.

'The Throstle'

'So we'll go no more a roving'

Song List
This list is likely to be of songs that have been performed at Oxford International Song Festivals and Oxford Song events, and may not be comprehensive of this composer's compositions. This database is ever growing as a work in progress, with further songs regularly being added.