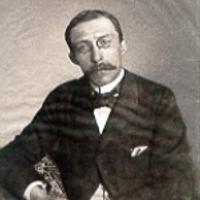 Albert Samain
1858 - 1900
Albert Victor Samain was a French poet and writer of the Symbolist school.
Born in Lille, his family were Flemish and had long lived in the town or its suburbs. At the time of the poet's birth, his father, Jean-Baptiste Samain, and his mother, Elisa-Henriette Mouquet, conducted a business in "wines and spirits" at 75 rue de Paris. Samain's father died when he was quite young; it was necessary for him to leave school and seek a trade. He moved to Paris in around 1880, where his poetry won him a following and he began mixing with avant-garde literary society, and began publicly reciting his poems at Le Chat Noir. His poems were strongly influenced by those of Baudelaire, and began to strike a somewhat morbid and elegiac tone. He also was influenced by Verlaine; his works disclose a taste for indecisive, vague imagery. Samain helped found the Mercure de France, and also worked on the Revue des Deux Mondes.
Samain published three volumes of verse: Le jardin de l'infante (1893), which made him famous; Aux flancs du vase (1898) and Le Chariot d'or (1901). His poetic drama Polyphème was set to music by Jean Cras. Samain died of tuberculosis.
Camille Saint-Saëns set poems of Samain to music: "Six Mélodies sur des poésies d'Albert Samain" op.31 (1902-1906; orchestrated 1921)
Taken from Wikipedia. To view the full Wikipedia article please click here.
Song List
This list is likely to be of songs that have been performed at Oxford International Song Festivals and Oxford Song events, and may not be comprehensive of this composer's compositions. This database is ever growing as a work in progress, with further songs regularly being added.