Ignaz Franz Castelli
Poet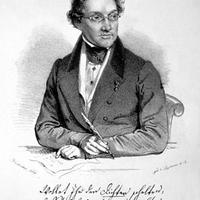 Ignaz Franz Castelli
1780 - 1862
Ignaz Franz Castelli was an Austrian dramatist born in Vienna. He studied law at the university, and then entered government service.
During the Napoleonic invasions his patriotism inspired him to write stirring war songs, one of which, Kriegslied für die österreichische Armee, was printed by order of the Archduke Charles of Austria and thousands of copies were distributed. For this Castelli had to seek refuge from Napoleon in Hungary. He spent his retirement in his home in Lilienfeld, devoting himself to literature.
Castelli's dramatic talent was characteristically Austrian; his plays were well constructed and effective and satirized unsparingly the foibles of the Viennese. But his wit was too local and ephemeral to appeal to any but his own generation, and if he is remembered at all today it is by his excellent Gedichte in niederösterreichischer Mundart (1828).
Schubert set several of his poems to music: Das Echo (D940c), Frohsinn (D520), Ich schleiche bang und still herum (D787 no.2) and Trinklied (D148).
Taken from Wikipedia. To view the full Wikipedia article please click here.
Song List
This list is likely to be of songs that have been performed at Oxford International Song Festivals and Oxford Song events, and may not be comprehensive of this composer's compositions. This database is ever growing as a work in progress, with further songs regularly being added.