Karl Leberecht Immermann
Poet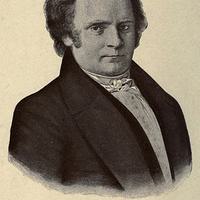 Karl Leberecht Immermann
1796 - 1840
Karl Leberecht Immermann was a German dramatist, novelist and a poet.
He was born at Magdeburg, the son of a government official. In 1813 he went to study law at Halle, where he remained, after the suppression of the university by Napoleon in the same year, until Frederick William III of Prussia's "Summons to my people" on 17 March. Immermann responded quickly, but was prevented by illness from taking part in the earlier campaign; he fought, however, in 1815 at Ligny and Waterloo, and marched into Paris with Blücher.
At the conclusion of the war he resumed his studies at Halle, and after being Referendar in Magdeburg, was appointed in 1819 Assessor at Münster in Westphalia. Here he made the acquaintance of Elise von Lützow, Countess von Ahlefeldt, wife of Ludwig Adolf Wilhelm Freiherr von Lützow. She inspired him to begin writing, and their relationship is reflected in several dramas written about this time.
Taken from Wikipedia. To view the full article, please click here.
Song List
This list is likely to be of songs that have been performed at Oxford International Song Festivals and Oxford Song events, and may not be comprehensive of this composer's compositions. This database is ever growing as a work in progress, with further songs regularly being added.