Matthäus Casimir von Collin
Poet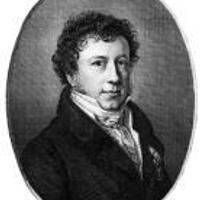 Matthäus Casimir von Collin
1779 - 1824
Matthäus Casimir von Collin was a leading poet in the Vienna of his time, the younger brother of the poet and playwright Heinrich Joseph von Collin.. Some of his works have been set to music by Schubert, such as Der Zwerg (D. 771), Wehmut (D. 772) and Nacht und Träume (D. 827).
He was editor of the Wiener Jahrbücher für Literatur. He was in sympathy with the Romantic movement, and intimate with its leaders. His dramas on themes from Austrian national history (Belas Krieg mit dem Vater, 1808; Der Tod Friedrichs des Streitbaren, 1813) may be regarded as the immediate precursors of Grillparzer's historical tragedies.
Taken from Wikipedia. To view the full Wikipedia article please click here.
Song List
This list is likely to be of songs that have been performed at Oxford International Song Festivals and Oxford Song events, and may not be comprehensive of this composer's compositions. This database is ever growing as a work in progress, with further songs regularly being added.