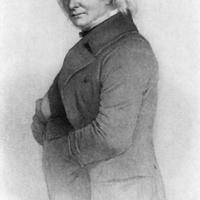 Pierre Béranger
1780 - 1857
Pierre-Jean de Béranger was a prolific French poet and chansonnier (songwriter), who enjoyed great popularity and influence in France during his lifetime, but faded into obscurity in the decades following his death. He has been described as "the most popular French songwriter of all time" and "the first superstar of French popular music".
De Béranger was born at his grandfather's house on the Rue Montorgueil in Paris, which he later described as "one of the dirtiest and most turbulent streets of Paris". He was not actually of noble blood, despite the use of an appended "de" in the family name by his father, who had vainly assumed the name of Béranger de Mersix. He was, in fact, descended from more humble stock, a country innkeeper on one side of the family and a tailor on the other - the latter was later celebrated in a song, "Le tailleur et la fée" (The tailor and the fairy).
 
Taken from Wikipedia. To view the full article, please click here.
Song List
This list is likely to be of songs that have been performed at Oxford International Song Festivals and Oxford Song events, and may not be comprehensive of this composer's compositions. This database is ever growing as a work in progress, with further songs regularly being added.