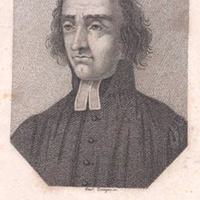 Werner, Zacharias
1768 - 1823
Friedrich Ludwig Zacharias Werner was a German poet, dramatist, and preacher. As a dramatist, he is known mainly for inaugurating the era of the so-called "tragedies of fate.
Werner was born at Königsberg in East Prussia. At the University of Königsberg, he studied law and attended Kant's lectures. Jean-Jacques Rousseau and Rousseau's German disciples were also influences that shaped his view of life. He lived an irregular life and entered a series of unsuccessful marriages. However his talent was soon recognized, and in 1793 he became chamber secretary in the Prussian service in Warsaw. In 1805 he obtained a government post in Berlin, but two years later he retired from the public service in order to travel.
In the course of his travels, and by correspondence, Werner became acquainted with many eminent literary figures of the time, for example Goethe at Weimar and Madame de Staël at Coppet. At Rome, he joined the Roman Catholic Church in 1811. He was consecrated a priest in 1814 at Aschaffenburg, and, exchanging the pen for the pulpit, became a popular preacher in Vienna, where, during a congress in 1814, his eloquent sermons were listened to by crowded congregations. He was later appointed head of the chapter of the cathedral of Kaminiec.
Werner died in Vienna.
Taken from Wikipedia. To view the full article, please click here.
Song List
This list is likely to be of songs that have been performed at Oxford International Song Festivals and Oxford Song events, and may not be comprehensive of this composer's compositions. This database is ever growing as a work in progress, with further songs regularly being added.