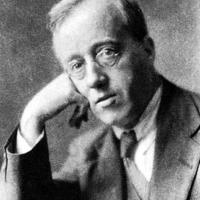 Gustav Holst
1874 - 1934
Gustav Theodore Holst (born Gustavus Theodore von Holst; 21 September 1874 – 25 May 1934) was an English composer. Although best known for his orchestral suite The Planets, he also composed a large number of works across a range of other genres.
Information from Wikipedia. Please click here for the full article.
Song List
This list is likely to be of songs that have been performed at Oxford International Song Festivals and Oxford Song events, and may not be comprehensive of this composer's compositions. This database is ever growing as a work in progress, with further songs regularly being added.
| | |
| --- | --- |
| Creation (1907) Set 1, Op. 24 | Gustav Holst |
| Faith (1907) Set 1, Op. 24 | Gustav Holst |
| In a Wood (1902) Op. 15 | Gustav Holst |
| Indra (God of Storm and Battle)  (1907) Set 1, Op. 24 | Gustav Holst |
| Journey's End (1929) | Gustav Holst |
| Margrete's cradle song | Gustav Holst |
| Maruts (Stormclouds) (1907) Set 1, Op. 24 | Gustav Holst |
| Nunc Dimittis | Gustav Holst |
| Six Songs (1902) Op. 15 | Gustav Holst |
| Slumber song | Gustav Holst |
| Soft and gently | Gustav Holst |
| Song of the Frogs (1907) Set 1, Op. 24 | Gustav Holst |
| The Heart Worships (1910) | Gustav Holst |
| Ushas (Dawn) (1907) Set 1, Op. 24 | Gustav Holst |
| Vac (Speech) (1907) Set 1, Op. 24 | Gustav Holst |
| Varuna I (Sky) (1907) Set 1, Op. 24 | Gustav Holst |
| Varuna II (The Waters) (1907) Set 1, Op. 24 | Gustav Holst |
| Vedic Hymns (1907) Set 1, Op. 24 | Gustav Holst |