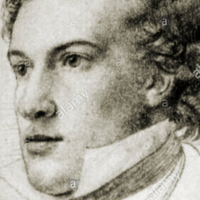 Franz von Bruchmann
1798 - 1867
Franz Joseph von Bruchmann was the son of Johann Christian Maria von Bruchmann, director of the Vienna National Bank, one of the richest men in Vienna and  patron of Franz Schubert and the artist Leopold Kupelwieser.  In his Vienna home Johann Christian  hosted the so-called Schubertiaden, musical and literary evenings with Schubert at their centre.
Franz Joseph graduated in Law in 1827 and joined the Austrian civil service. Following the untimely death of his wife Juliana in 1830 , he went to Rome and entered the Congregation of the Most Holy Redeemer, and was ordained in Graz in 1833.  In 1841 he founded the Redemptorist mission in Upper Bavaria. He later became the Provincial of the Austrian and German congregations.
Schubert set five of Franz Joseph's poems to music: Am Zee (D746), An die Leier (D737), Der Zürnende Barde (D785), Im Haine (D738), and Schewstergruss (D763)
Song List
This list is likely to be of songs that have been performed at Oxford International Song Festivals and Oxford Song events, and may not be comprehensive of this composer's compositions. This database is ever growing as a work in progress, with further songs regularly being added.