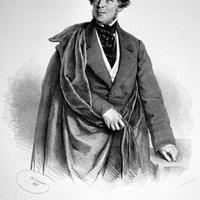 Friedrich Halm
1806 - 1871
Baron Eligius Franz Joseph von Münch-Bellinghausen (German: Eligius Franz Joseph Freiherr von Münch-Bellinghausen) was an Austrian dramatist, poet and novella writer of the Austrian Biedermeier period and beyond, and is more generally known under his pseudonym Friedrich Halm.
He was the son of a district judge at Kraków in Poland, at this time part of the Austrian Empire. Early in his literary career he adopted the nom de plume of Friedrich Halm ("Halm" means a blade of grass or a blade of straw), and became one of the most popular dramatists in Vienna around the middle of the 19th century. His novellas are now regarded as more significant from a literary point of view than his dramatic writings.
Taken from Wikipedia. To view the full article, please click here.
Song List
This list is likely to be of songs that have been performed at Oxford International Song Festivals and Oxford Song events, and may not be comprehensive of this composer's compositions. This database is ever growing as a work in progress, with further songs regularly being added.