Pyrker, Johann Ladislaus
Poet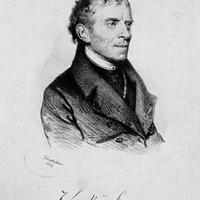 Pyrker, Johann Ladislaus
1772 - 1847
Johann Ladislaus Pyrker (von Oberwart) ) was a Hungarian Cistercian abbot, archbishop and poet.
He was descended from an old Hungarian noble family. His father was one of the eighteen hussars who distinguished themselves in the battle of Kunersdorf.
Graduated from Székesfehérvár and Pécs, he applied for a civil service position in Buda but was unsuccessful. In 1792 he entered the Cistercian chapter house at Lilienfeld Abbey, where he was ordained priest (1796). In quick succession he was steward, chancellor, prior, abbot, for a time, parish priest at Türnitz, and brought the monastery to prosperity.
He was appointed Bishop of Spiš (1818), Patriarch of Venice and Primate of Dalmatia with his see in Venice (1820), and finally Archbishop of Eger (1827). He founded health resorts in Karlovy Vary and Gastein for sick soldiers, a seminary for country school teachers at Eger, and donated 10,000 florins toward the adornment of Eger Cathedral. His collection of paintings forms the basis of the Hungarian National Museum. For these charitable gifts he was knighted by the emperor with the title of Felsö-Eör. In 1827 he was founded a string quartet in Eger by his noble music instruments, one of these the 1697's Stradivari's violin, named Cecilia, newly discovered in 2011.
Taken from Wikipedia. To view the full article, please click here.
Song List
This list is likely to be of songs that have been performed at Oxford International Song Festivals and Oxford Song events, and may not be comprehensive of this composer's compositions. This database is ever growing as a work in progress, with further songs regularly being added.