Hedwige Chrétien
Composer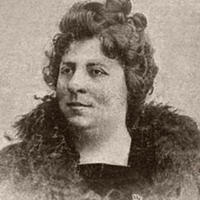 Hedwige Chrétien
1859 - 1944
Forgotten Voices
Study event exploring the life and work of Hedwige Chrétien.
Filmed in 2022 by TallWall Media. 
COMPOSER BIOGRAPHY
Little is known about Hedwige Chrétien at the time of writing. She was born in Compiègne and her maternal grandfather, Jules Ternizien, was a professional violinist. During her studies at the Paris Conservatoire, her teachers included Louise-Aglaé Massart (piano), César Franck (organ) and composition and associated theory with Charles Lenepveu and Ernest Guiraud. In 1886 she won a prize from the Society of Composers of Music for a lyric poem L'Année and published her Grand Solo for tenor trombone and piano, the start of a lifelong interest in wind/brass instruments. She gained several awards and prizes from 1875 onwards, including for solfège, piano, harmony, accompaniment, counterpoint and fugue.
In 1887 she also married a fellow-student, the flautist Paolo Gennaro. They had at least two children, Marcel and Cécile, both of whom became professional musicians. By 1890, Chrétien joined the staff of the conservatoire to teach music theory but resigned two years later to concentrate on her composition.  
Chrétien composed steadily, producing approximately 250 works including thirty chamber pieces, orchestral works including the Oriental Ballet (lost), two comic operas, La Cinquantaine and Le Menuet de l'Impératrice, and a hundred piano pieces. From 1920, her interest in the organ revived and she wrote extensively for this instrument.
Chrétien wrote over 70 mélodies; those currently known are beautifully crafted, with a distinctive and assured use of harmony and form. She favoured similar texts to her contemporaries, hearkening back to France's medieval past. Much of her music is held at the Bibliothèque nationale and the Women Composers Collection at the University of Michigan.
© Natasha Loges, 2022



Where can I listen to Hedwige Chrétien's songs?
Hedwige Chrétien is a featured composer on 'Compositrices: New Light on French Romantic Women Composers', released in 2023. Listen here on Spotify.
'Petits poèmes du bord de l'eau', recorded at the 2022 Spring Song Festival.
SCORES
Many scores for Chrétien's work are available to view here.
Song List
This list is likely to be of songs that have been performed at Oxford International Song Festivals and Oxford Song events, and may not be comprehensive of this composer's compositions. This database is ever growing as a work in progress, with further songs regularly being added.