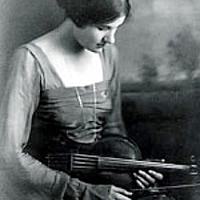 Rebecca Clarke
1886 - 1979
Forgotten Voices
Anglo-American composer Rebecca Clarke was born in 1886 in Harrow, London. Classified by Gramophone as 'one of the very best of her time', Clarke is best known for her instrumental works - most notably her 1919 Viola Sonata. Her vocal music is comparatively under-performed but includes over fifty works for solo voice accompanied by piano, violin, and chamber ensemble respectively, as well as vocal duets and choral music.
Born in 1886, Clarke experienced a tumultuous childhood, aggravated by her abusive father. She began to study violin at eight years old and became a student at the Royal Academy of Music in 1903, studying violin with Hans Wesseley and harmony with Percy Miles. Miles proposed to Clarke in 1905, but her father forbade the match and forced her to leave the Academy. Following a brief period at home, she became the first female student of C. V. Stanford at the Royal College of Music in 1908, where she also studied counterpoint with Frederick Bridge and viola with Lionel Tertis. Her passion for composition grew, offering her both a 'refuge' and an 'outlet', and she explored a variety of styles.
Clarke was thrown out of her father's home in 1910 and forced to earn her own living. Determined and defiant, she made a name for herself as a professional violist and, in 1913, became one of the first women to be employed by Henry Wood's Queen's Hall orchestra. She later performed alongside Pablo Casals, Jacques Thibaud, and others, as well as in a string quartet with the d'Aranyi sisters and cellist, Guilhermina Suggia. This led her to establish a pianoforte quartet in 1927 – 'The English Ensemble' - with Marjorie Hayward, May Mukle and Kathleen Long.
Throughout the late 1910s, Clarke travelled throughout the UK and to the US, even visiting Hawaii, a US territory at that time. Her work Morpheus for viola and piano was performed at New York's Aeolian Hall in 1918, for which Clarke adopted the pseudonym, Anthony Trent. The following year she came runner up in an anonymous composition competition at Elizabeth Sprague Coolidge's Berkshire Festival, shocking the jury when her female identity was subsequently revealed. During the early 1920s Clarke toured further afield as part of the Clarke-Mukle-Watson piano trio, before returning to Hawaii in June 1923 to complete Rhapsody. The piece premiered in Massachusetts not long after.
The success of Clarke's instrumental music, as Sally Macarthur has argued, undoubtedly makes it more difficult to evaluate her remaining output without diminishing its importance. However, Clarke was a dedicated song composer and developed a unique style over the course of her life. This grew from her knowledge of the English parlour-song style and nineteenth-century German Lieder – demonstrated by her 1907 settings of Richard Dehmel's poems, 'Manche Nacht' and 'Vergissmeinnicht'. She also began to experiment with more unusual texts early in her career, for example, her setting of a traditional Chinese verse, 'Tears' (1910), in which she explores whole tone harmony.
In 1920, Clarke published two settings of poetry by W. B. Yeats, 'Shy One' and 'The Cloths of Heaven', both dedicated to renowned tenor Gervase Elwes. 'Shy One' typifies Clarke's song-writing style during this period, combining a syllabic vocal melody with harmonic chromaticism and dissonance. Rhythmically, Clarke varies the meter to follow the stresses of Yeats' text, highlighting her foremost intention to communicate the meaning of the words. 'The Cloths of Heaven' boasts a similarly clear, syllabic word-setting, though Clarke explores a more modal and impressionistic harmonic language.
Clarke's song composition continued to flourish throughout the decade, and she was drawn increasingly towards evocative and complex texts. One of her most famous songs is 'The Seal Man' (1922, Masefield), which relates the tragic death of a woman drawn into the sea by a mysterious creature – both seal and human. Powerfully expressive, Clarke combines recitative-like sections with lyrical vocal passages to emphatically deliver the text. Click here to read an exploration of the song's narrative and contextual background by Christopher Johnson, Clarke's great nephew.
Clarke returned to John Masefield's poetry in 1925 with her similarly captivating 'June Twilight', in which the text explores the temporal fragility concealed within a blissful rural scene. She also produced a simple setting of Campion's 'Come, O Come my Life's Delight' (1924), a more varied and impressionistic setting of Wickham's 'The Cherry-Blossom Wand' (1927), and a dramatic take on Houseman's 'Eight O'Clock' (1927).
In 1929 Clarke set two poems by William Blake, 'Tiger, Tiger' and 'Cradle Song'. The former is characteristic of Clarke's mature style: chromatic dissonances, melodies developed through intervallic transformation and complicated rhythms. Christopher Johnson has also commented on Clarke's involved accompaniment in 'Tiger, Tiger', noting how the piano 'snarls, slashes, and slithers' as an independent protagonist within the drama. Alongside several other songs Clarke composed in this period, 'The Aspidistra' (1929, Flight) is worthy of mention for its humorous parody of the parlour-song style she explored in her earliest compositional years.
Clarke's vocal composition stopped abruptly during the 1930s and she did not return to song until after the outbreak of WWII. In 1944 she married James Friskin and they settled together in the States. Clarke's compositional output slowed during this period, though Friskin always encouraged her to continue. Indeed, she went on to produce several notable songs alongside more successful instrumental works (such as her Passacaglia on an Old English Tune for viola (or cello) and piano). Her late songs included 'Daybreak' (1942, Donne) for soprano and string quartet, and a dark and theatrical setting of Chesterton's 'The Donkey' (1942), dedicated to Danish soprano Povla Frijsh. In 1954, she composed her final significant vocal composition, 'God Made a Tree' (1954, Katherine Kendall).
Despite continuing to write intermittently, none of Clarke's songs written after 1930 were published during her lifetime. However, the bulk of her song composition took place during the 1920s, of which three-quarters were published. Today, her name is beginning to appear more frequently in concert programmes, comparable even to during her heyday from 1910-1940s. There are limited resources available detailing Clarke's life and work, and unfortunately misinformation and factual inaccuracies are common. Christopher Johnson's website offers the most up-to-date information. Leah Broad's upcoming book, Quartet, also promises a new insight into Clarke's extraordinary musical life, alongside fellow female composers Ethel Smyth, Dorothy Howell and Doreen Carwithen.
 
© Rachel Howe, 2022
SCORES
Rebecca Clarke's works remain in copyright in the UK.
Some scores may be available here.
Where can I listen to Rebecca Clarke's songs?
Listen to 'Lethe' here.

'Tears', recorded at the 2022 Spring Song Festival. 

'One that is ever kind', recorded at the 2022 Spring Song Festival. 
Song List
This list is likely to be of songs that have been performed at Oxford International Song Festivals and Oxford Song events, and may not be comprehensive of this composer's compositions. This database is ever growing as a work in progress, with further songs regularly being added.