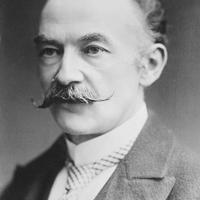 Thomas Hardy
1840 - 1928
Thomas Hardy (2 June 1840 – 11 January 1928) was an English novelist and poet. A Victorian realist in the tradition of George Eliot, he was influenced both in his novels and in his poetry by Romanticism, especially William Wordsworth. He was highly critical of much in Victorian society, especially on the declining status of rural people in Britain, such as those from his native South West England.
While Hardy wrote poetry throughout his life and regarded himself primarily as a poet, his first collection was not published until 1898. Initially, therefore, he gained fame as the author of such novels as Far from the Madding Crowd (1874), The Mayor of Casterbridge (1886), Tess of the d'Urbervilles (1891), and Jude the Obscure (1895). During his lifetime, Hardy's poetry was acclaimed by younger poets (particularly the Georgians) who viewed him as a mentor. After his death his poems were lauded by Ezra Pound, W. H. Auden and Philip Larkin.
Read some of his poetry here. You can browse, read, and download his novels for free here on Gutenberg Press. If you prefer listening to audiobooks, you can find his books read aloud for free here, on Librivox.
Taken from Wikipedia. To read the full article, please click here.
Song List
This list is likely to be of songs that have been performed at Oxford International Song Festivals and Oxford Song events, and may not be comprehensive of this composer's compositions. This database is ever growing as a work in progress, with further songs regularly being added.