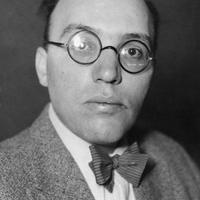 Kurt Weill
1900 - 1950
Kurt Julian Weill was a German Jewish composer best known for his collaborations with Bertolt Brecht. He studied under Ferruccio Busoni in the 1920s, at the Preußische Akademie der Künste in Berlin. He was part of the Novembergruppe, a leftist group of Berlin artists including Hanns Eisler and Stefan Wolpe. He fled Nazi German in March 1933, denounced both because he was Jewish and for his political views, he went first to Paris and then to New York.
Information from Wikipedia. Read more here.
Song List
This list is likely to be of songs that have been performed at Oxford International Song Festivals and Oxford Song events, and may not be comprehensive of this composer's compositions. This database is ever growing as a work in progress, with further songs regularly being added.