Alfred Edward Housman
Poet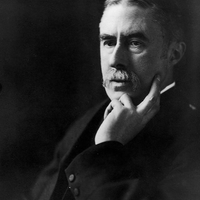 Alfred Edward Housman
1859 - 1936
Alfred Edward Housman (/26 March 1859 – 30 April 1936), usually known as A. E. Housman, was an English classical scholar and poet, best known to the general public for his cycle of poems A Shropshire Lad. Lyrical and almost epigrammatic in form, the poems wistfully evoke the dooms and disappointments of youth in the English countryside. Their beauty, simplicity and distinctive imagery appealed strongly to Edwardian taste, and to many early 20th-century English composers both before and after the First World War. Through their song-settings, the poems became closely associated with that era, and with Shropshire itself.
Housman's poetry, especially A Shropshire Lad, was set to music by many British, and in particular English, composers in the first half of the 20th century.[ The national, pastoral and traditional elements of his style resonated with similar trends in English music. In 1904 the cycle A Shropshire Lad was set by Arthur Somervell, who had begun to develop the concept of the English song-cycle in his version of Tennyson's Maud a little previously. Ralph Vaughan Williams produced his well-known settings of six songs, the cycle On Wenlock Edge, for string quartet, tenor and piano in 1909. Between 1909 and 1911 George Butterworth produced settings in two collections, Six Songs from A Shropshire Lad and Bredon Hill and Other Songs. He also wrote the orchestral tone poem A Shropshire Lad, first performed at LeedsFestival in 1912.
Ivor Gurney also made renowned settings of Housman's poems. Towards the end of World War 1 he was working on his cycle Ludlow and Teme, for voice and string quartet (published in 1919), and went on to compose the eight-song cycle The Western Playland in 1921. One more who set Housman songs at this period was John Ireland in the song cycle, The Land of Lost Content (1920–21). Even composers not directly associated with the 'pastoral' tradition, such as Arnold Bax, Lennox Berkeley and Arthur Bliss, were attracted to Housman's poetry. 
Information taken from Wikipedia. Please click here to read the full article.
Song List
This list is likely to be of songs that have been performed at Oxford International Song Festivals and Oxford Song events, and may not be comprehensive of this composer's compositions. This database is ever growing as a work in progress, with further songs regularly being added.