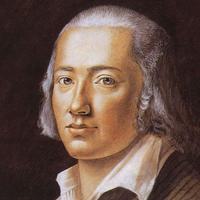 Friedrich Hölderlin
1770 - 1843
Johann Christian Friedrich Hölderlin (20 March 1770 – 7 June 1843) was a German poet and philosopher. Described by Norbert von Hellingrath as "the most German of Germans", Hölderlin was a key figure of German Romanticism. Particularly due to his early association with and philosophical influence on Georg Wilhelm Friedrich Hegel and Friedrich Wilhelm Joseph Schelling, he was also an important thinker in the development of German Idealism. You can read more about his life and some of his poetry here. You can read a lot of his work here in the original German.
Hölderlin's poetry has inspired many composers, generating vocal music and instrumental music. One of the earliest settings of Hölderlin's poetry is Schicksalslied by Johannes Brahms, based on Hyperions Schicksalslied. Other composers of Hölderlin settings include Peter Cornelius, Hans Pfitzner, Richard Strauss , Max Reger, and Benjamin Britten, to name just a few. 
Information from Wikipedia. Read the full article here.
Song List
This list is likely to be of songs that have been performed at Oxford International Song Festivals and Oxford Song events, and may not be comprehensive of this composer's compositions. This database is ever growing as a work in progress, with further songs regularly being added.