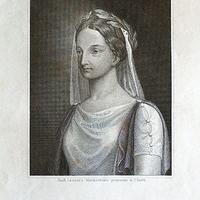 Elisabeth Kulmann
1808 - 1825
Elisabeth Kulmann was Russian, German and Italian poet and translator.
She was born in the Russian Empire in a large family of Boris Fedorovich, and Mary (née Rosenberg) Kulmann, of German origin. Father, collegiate councilor and a retired captain, died early. The family lived on Vasilyevsky Island in St. Petersburg. As a child, she has shown phenomenal philological abilities, learning ancient and modern languages under the direction of Karl Grosgeynrikh.
Fluent in 11 languages, she wrote over 1,000 poems before her death at age 17. Robert Schumann considered her a wunderkind and set some of her poems to music including "Mailied" ["May Song"] and "An den Abendstern" ["To the Evening Star"].
Taken from Wikipedia. To view the full article, please click here.
Song List
This list is likely to be of songs that have been performed at Oxford International Song Festivals and Oxford Song events, and may not be comprehensive of this composer's compositions. This database is ever growing as a work in progress, with further songs regularly being added.