Charles-Marie-René Leconte de Lisle
Poet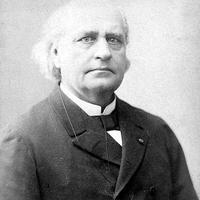 Charles-Marie-René Leconte de Lisle
1818 - 1894
Charles Marie René Leconte de Lisle was a French poet of the Parnassian movement. He is traditionally known by his surname only, Leconte de Lisle.
Leconte de Lisle was born on the French overseas island of La Réunion, in the Indian Ocean. He spent his childhood there and later in Brittany. Among his friends in those years was the musician Charles Bénézit. His father, an army surgeon, who brought him up with great severity, sent him to travel in the East Indies with a view to preparing him for a business career. However, after returning from this journey, the young man preferred to complete his education in Rennes, Britanny, specializing in Greek, Italian and history. In 1845 he settled definitively in Paris.
He was involved in the French Revolution of 1848 which ended with the overthrow of the Orleans King Louis-Philppe of France, but took no further part in politics after the Second Republic was declared.
As a writer he is most famous for his three collections of poetry: Poèmes antiques (1852), Poèmes barbares (1862), Poèmes tragiques (1884). He is also known for his translations of Ancient Greek tragedians and poets, such as Aeschylus, Sophocles, Euripides and Horace.
Taken from Wikipedia. To view the full article, please click here.
Song List
This list is likely to be of songs that have been performed at Oxford International Song Festivals and Oxford Song events, and may not be comprehensive of this composer's compositions. This database is ever growing as a work in progress, with further songs regularly being added.