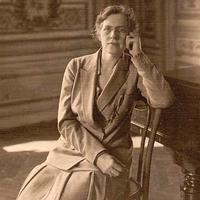 Nadia Boulanger
1887 - 1979
Forgotten Voices
Nadia Boulanger and her immensely gifted younger sister Lili came from a family of musicians. Boulanger joined the Paris Conservatoire aged ten, studying harmony and composition, alongside private organ lessons. Gabriel Fauré, who taught her composition, encouraged and supported her.  The virtuoso Raoul Pugno championed her as a performer, often sharing the stage with her before his death in 1914.
Boulanger stopped composing around 1919 (the year of her sister's death), after which she dedicated herself to teaching, becoming one of the foremost composition teachers within the twentieth-century art music traditions, as well as one of the first professional female conductors. Her influence was international, not least because she lived and worked in the USA during World War II.
She energetically promoted the music of her sister and students, especially Stravinsky. An important patron between the wars was the indefatigable heiress Winnaretta Singer, Princesse de Polignac, who created conducting opportunities for Boulanger in the 1930s. In addition, she contributed to the 20th-century rediscovery of early music. By the end of her life, she had gained many honours.
Boulanger and Pugno co-composed the song cycle Les heures claires (1909) to poems by the great Belgian poet Émile Verhaeren, as well as an opera La ville morte. She wrote over thirty songs, favouring chromatic and modal harmony. Her choice of poet ranged from established favourites such as Heine and Verlaine (one setting each), to important contemporaries like Maurice Maeterlinck.
A list of her songs is below:
- Five Songs (Soleils couchants/Paul Verlaine, Cantique/Maurice Maeterlinck, Élégie/Albert Samain, Prière/H. Bataille, Was will die einsame Träne/Heinrich Heine), 1909
- Les heures claires (Le ciel en nuit s'est déplié; Avec mes sens, avec mon cœur; Vous m'avez dit; Que tes yeux claires, tes yeux d'été; C'était en juin; Ta bonté; Roses de Juin; S'il arrive jamais,)1909-1912
- Mélodies, 1910
- Seven Songs (Soir d'hiver/Nadia Boulanger, L'Échange/Camille Mauclair, Chanson/Camille Mauclair, Le Couteau/Camille Mauclair, Au bord de la route/Camille Mauclair, Doute/Camille Mauclair, J'ai frappé/J.-F. Bourguignon), 1915 (oder 1916)/1922.
All her songs are recorded and available in recent editions.

© Natasha Loges, 2022
SCORES
Nadia Boulanger's works remain in copyright in the UK.
Some scores may be available here.
Where can I listen to Nadia Boulanger's songs?
Listen to 'Versailles' here on Spotify.

Nadia Boulanger is a featured composer on 'Compositrices: New Light on French Romantic Women Composers', released in 2023. Listen here on Spotify.

'J'ai frappé'


'Chanson'

'Soleil couchants'. Recorded by TallWall Media. 
'S'il arrive jamais'

Song List
This list is likely to be of songs that have been performed at Oxford International Song Festivals and Oxford Song events, and may not be comprehensive of this composer's compositions. This database is ever growing as a work in progress, with further songs regularly being added.