Alma Mahler (Schindler-Mahler)
Composer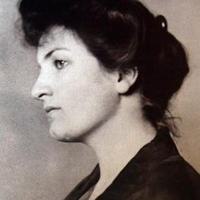 Alma Mahler (Schindler-Mahler)
1879 - 1964
Forgotten Voices
Alma Schindler (1879-1964) was born in Vienna into an artistic inclined family. As a child, her musical gifts were encouraged to some extent with piano and composition lessons, including with Alexander Zemlinsky, although in 1898 her father vetoed more advanced piano lessons. Schindler-Mahler's musical legacy is heavily overshadowed by her relationships with famous, creative men such as Mahler, the architect Walter Gropius and the artist Franz Werfel, alongside relationships with her composition teacher Alexander von Zemlinsky and the artist Oskar Kokoschka.
As a composer, she is most readily identified under the name 'Alma Schindler-Mahler'. This reflects the fact that she wrote nearly all her songs before her first marriage, to Gustav Mahler, but these were only published after her marriage, from 1910 onwards. Nevertheless, Schindler-Mahler was serious about composition as a young woman; her diaries evaluate potential suitors according to whether they would allow her to compose. Her choice of Mahler, nearly twenty years older, therefore provokes many questions, since he famously insisted that she either renounce composition or break their engagement. During their marriage, she not only protected him from mundane demands, but also acted as his assistant by preparing piano scores for many of his works.
For most of the twentieth century, Schindler-Mahler was regarded as a 'muse', a role she herself willingly played. Equally significant, however, is her support for the careers of contemporaries such as Alban Berg and Arnold Schoenberg (reflected, for example, in Berg's dedication of Wozzeck to her in recognition of her financial support). Schindler-Mahler's life was personally and politically turbulent. By 1938, she and her husband Franz Werfel had to flee Vienna for the USA, where they settled along with many other émigrés, in Los Angeles. Following Werfel's death, she eventually settled in New York.
Schindler-Mahler published various memoirs and correspondence which shed light on her personality and milieu, including two autobiographies: And the Bridge is Love and Mein Leben. Many written traces of her are also found in the letters and memoirs of Berg, Schoenberg, Zemlinsky, Bruno Walter, and others like Elias Canetti, Nina Kandinsky, the Mann family, Arthur Schnitzler, Franz Werfel, and Berta Zuckerkandl.
Like many of her contemporaries including Brahms and Berg, Schindler-Mahler began her compositional life with songs, and there is evidence that she would have attempted other, larger genres had she been in more supportive circumstances. Indeed, it took a marital crisis for Gustav finally to pay attention to her as a creative person in her own right, and facilitate the publications with the prestigious Universal Edition.
The style of her songs is lyrical and late Romantic, with a fondness for the lower range of the keyboard, atmospheric textures and a rhapsodic, through-composed approach to form. Songs like 'Bei dir ist es Traut' achieve a mesmerising, transparent stillness, combining a persuasive form with harmonic adventurousness. 'Ansturm' from Vier Lieder shows her ability to craft exquisite piano textures.
During her lifetime, three sets of songs appeared: Fünf Lieder (1910), Vier Lieder (1915) and Fünf Gesänge (1924). Fourteen other songs have been published in different collections since then. According to her diary, at least forty unpublished songs remain, dating mainly from 1898-1901, including settings of Goethe, Rilke, Heine and Falke and cycles. She had a strong preference for contemporary poets such as Dehmel, Bierbaum and Falke, alongside established figures like Goethe and Heine. She set no poetry by women, to our knowledge.
Useful modern collections include Frauen komponieren - 25 Lieder für Singstimme und Klavier, edited by Eva Rieger und Käte Walter (Schott). David and Colin Matthews have also orchestrated seven of her songs for medium voice; see Alma Mahler: Sieben Lieder für mittlere Stimme und Orchester (Vienna 1995). The best account of her as composer is Susanne Rode-Breymann's Die Komponistin Alma Mahler-Werfel (1999).
There exists a growing number of recordings which usually pair Schindler-Mahler's songs with those of women like Clara Schumann or Fanny Mendelssohn (despite their vastly different circumstances), or position her within her male musical circle. A useful resource is Alma Mahler-Werfel: Complete Songs (Ruth Ziesack, Iris Vermillion, Christian Elsner and Cord Garben, 1997).
© Natasha Loges, 2022
 
SCORES
Many scores for Alma Mahler's work are available to view here.
Where can I listen to Alma Mahler's songs?
Listen on to 'Fünf Lieder' by Alma Mahler here. 

The Complete Songs of Alma Mahler

Song List
This list is likely to be of songs that have been performed at Oxford International Song Festivals and Oxford Song events, and may not be comprehensive of this composer's compositions. This database is ever growing as a work in progress, with further songs regularly being added.