Johann Sebastian Bach
Composer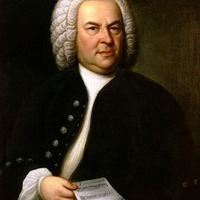 Johann Sebastian Bach
1685 - 1750
Johann Sebasian Bach (31 March [O.S. 21 March] 1685 – 28 July 1750) was a German composer and musician of the Boroque period. He enriched established German styles through his skill in counterpoint, harmonic and motivic organisation, and the adaptation of rhythms, forms, and textures from abroad, particularly from Italy and France. Bach's compositions include the Brandenburg concertos, th Goldburg Variations, the Mass in B minor, two Passions, and over three hundred cantatas of which around two hundred survive. His music is revered for its technical command, artistic beauty, and intellectual depth.
Bach's abilities as an organist were highly respected during his lifetime, although he was not widely recognised as a great composer until a revival of interest in and performances of his music in the first half of the 19th century. He is now generally regarded as one of the greatest composers of all time.
Read more here: https://en.wikipedia.org/wiki/Johann_Sebastian_Bach
Song List
This list is likely to be of songs that have been performed at Oxford International Song Festivals and Oxford Song events, and may not be comprehensive of this composer's compositions. This database is ever growing as a work in progress, with further songs regularly being added.
| | |
| --- | --- |
| Agnus Dei BWV 232 | Johann Sebastian Bach |
| Allemande BMV 1007 | Johann Sebastian Bach |
| Aria: Ich habe genug (1731) BWV 82a | Johann Sebastian Bach |
| Cantata 115: Mache dich, mein Geist, bereit BWV 115 | Johann Sebastian Bach |
| Cantata 55: Ich armer Mensch, ich Sündenknecht (1726) BWV 55 | Johann Sebastian Bach |
| Cantata 89: Was soll ich aus dir machen, Ephraim (1723) BWV 89 | Johann Sebastian Bach |
| Cello Suite No. 1 in G Major BMV 1007 | Johann Sebastian Bach |
| Der Ewigkeit saphirnes Haus (from Laß, Fürstin, laß noch einen Strahl) (1727) BWV 198 | Johann Sebastian Bach |
| Der Geist hilft unser Schwachheit auf (1729) BWV 226 | Johann Sebastian Bach |
| Du lieber Heiland du (from 'St Matthew Passion') (1727) BMV244 | Johann Sebastian Bach |
| Ich habe genug BWV 82 | Johann Sebastian Bach |
| Man halte nur ein wenig stille - (Wer nur den lieben Gott läßt walten) (1724) BWV 93 | Johann Sebastian Bach |
| Mein Herze schwimmt im Blut (1714) BWV 199 | Johann Sebastian Bach |
| Notebook for Anna Magdalena Bach | Johann Sebastian Bach |
| O holder Tag, erwünschte Zeit BWV 210 | Johann Sebastian Bach |
| Prelude BMV 1007 | Johann Sebastian Bach |
| Ruhet hie, matte Töne BWV 210 | Johann Sebastian Bach |
| So oft ich meine Tobackspfeife BWV 515a | Johann Sebastian Bach |
| Stumme Seufzer, stille Klagen (1714) BWV 199 | Johann Sebastian Bach |
| Vergiss mein nicht (1736) no.73 (BWV 505) | Johann Sebastian Bach |
| Willst du dein Herz mir schenken BWV 518 | Johann Sebastian Bach |
| Zerfliesse, mein Herz BWV 245 | Johann Sebastian Bach |