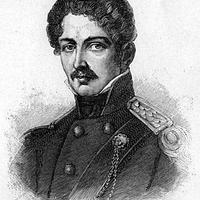 Körner, Theodor
1791 - 1813
Karl Theodor Körner  was a German poet and soldier. After some time in Vienna, where he wrote some light comedies and other works for the Burgtheater, he became a soldier and joined the Lützow Free Corps in the German uprising against Napoleon. During these times, he displayed personal courage in many fights, and encouraged his comrades by fiery patriotic lyrics he composed, among these being the "Schwertlied" ("Sword Song"), composed during a lull in fighting only a few hours before his death, and "Lützows wilde Jagd" ("Lützow's Wild Chase"), each set to music by both Carl Maria von Weber and Franz Schubert. He was often called the "German Tyrtaeus.
He was born at Dresden, capital of the Saxon electorate, the son of the consistorial councillor Christian Gottfried Körner and his wife Minna Stock Körner. He was raised by his parents and by his aunt, the artist Dora Stock, who lived in the home. He attended the Kreuzschule.
After his education, he chose mining as an occupation. He moved to Vienna, where he befriended Wilhelm von Humboldt, the Prussian ambassador, Karl Wilhelm Friedrich von Schlegel, and other eminent literary and scientific men. Here, within the short space of fifteen months, he produced a succession of dramas, operas, and farces, as well as several small poems. The success of his works obtained him the appointment of poet to the court at the Vienna Burgtheater. It was in this period of his life that he became betrothed to the popular actress Antonie Adamberger.
During the War of the Sixth Coalition, he left Vienna in March 1813, and together with Friedrich Friesen and Friedrich Ludwig Jahn joined the Lützow Free Corps, a voluntary paramilitary association which Ludwig Adolf Wilhelm von Lützow was then forming in Breslau, Silesia. In the midst of the most active campaigns, Körner continued to write poetry and other works. He wrote a singspiel, Der vierjährige Posten, which was set to music by Franz Schubert in 1815, but the piece was not performed until 1869, when it was staged at the Hofoper, Dresden. It was later adapted in English as The Outpost.
Taken from Wikipedia. To view the full article, please click here.
Song List
This list is likely to be of songs that have been performed at Oxford International Song Festivals and Oxford Song events, and may not be comprehensive of this composer's compositions. This database is ever growing as a work in progress, with further songs regularly being added.