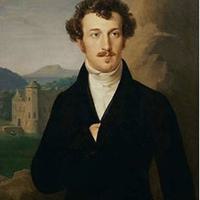 Schober, Franz von
1796 - 1882
Franz Adolf Friedrich Schober, since 1801 von Schobe, was an Austrian poet, librettist, lithographer, actor in Breslau and Legationsrat in Weimar.
Schober was born to Austrian parents in Sweden. Educated in the Schnepfenthal Salzmann School, Akademisches Gymnasium (Vienna) and Kremsmünster Abbey, he returned to Vienna, where he began to study philosophy and met the composer Franz Schubert, his friends Johann Mayrhofer, Joseph von Spaun and the painters Leopold Kupelwieser and Moritz von Schwind. Between 1823 and 1825, Schober was an actor at the theatre in Breslau under the pseudonym "Torupson". In the 1840s, Schober was in close contact with Franz Liszt. In 1856 he married the author Thekla von Gumpert; afterwards he lived in Budapest, Munich and Dresden.
Schober wrote lyric poetry and in 1821 the libretto for Schubert's opera Alfonso und Estrella.
Taken from Wikipedia. To view the full article, please click here.
Song List
This list is likely to be of songs that have been performed at Oxford International Song Festivals and Oxford Song events, and may not be comprehensive of this composer's compositions. This database is ever growing as a work in progress, with further songs regularly being added.