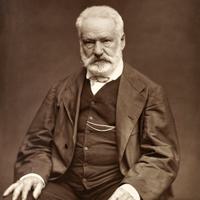 Victor Hugo
1802 - 1885
Victor Marie Hugo was a French poet, novelist, and dramatist of the Romantic movement. He is considered one of the greatest and best-known French writers. In France, Hugo's literary fame comes first from his poetry and then from his novels and his dramatic achievements. Among many volumes of poetry, Les Contemplations and La Légende des siècles stand particularly high in critical esteem. Outside France, his best-known works are the novels Les Misérables, 1862, and Notre-Dame de Paris, 1831 (known in English as The Hunchback of Notre-Dame). He also produced more than 4,000 drawings, which have since been admired for their beauty, and earned widespread respect as a campaigner for social causes such as the abolition of capital punishment.
Though a committed royalist when he was young, Hugo's views changed as the decades passed, and he became a passionate supporter of republicanism; his work touches upon most of the political and social issues and the artistic trends of his time. He is buried in the Panthéon. His legacy has been honoured in many ways, including his portrait being placed on French franc banknotes.
Taken from Wikipedia. To view the full article, please click here.
Song List
This list is likely to be of songs that have been performed at Oxford International Song Festivals and Oxford Song events, and may not be comprehensive of this composer's compositions. This database is ever growing as a work in progress, with further songs regularly being added.