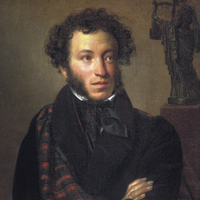 Alexander Pushkin
1799 - 1837
Alexander Sergeyevich Pushkin (6 June 1799 – 10 February 1837) was a Russian poet, playwright, and novelist of the Romantic era who is considered by many to be the greatest Russian poet and the founder of modern Russian literature.
Pushkin was born into Russian nobility in Moscow. His father, Sergey Lvovich Pushkin, belonged to Pushkin noble families. A maternal great-grandfather was African-born general Abram Petrovich Gannibal. He published his first poem at the age of 15, and was widely recognized by the literary establishment by the time of his graduation from the Tsarskoye Selo Lyceum. Upon graduation from the Lycee, Pushkin recited his controversial poem "Ode to Liberty", one of several that led to his being exiled by Tsar Alexander the First. While under the strict surveillance of the Tsar's political police and unable to publish, Pushkin wrote his most famous play, the drama Boris Godunov. His novel in verse, Eugene Onegin, was serialized between 1825 and 1832.
Pushkin was fatally wounded in a duel with his brother-in-law, Georges-Charles de Heeckeren d'Anthès, also known as Dantes-Gekkern, a French officer serving with the Chevalier Guard Regiment, who attempted to seduce the poet's wife, Natalia Pushkina.
Taken from Wikipedia. Read the full article here.
Song List
This list is likely to be of songs that have been performed at Oxford International Song Festivals and Oxford Song events, and may not be comprehensive of this composer's compositions. This database is ever growing as a work in progress, with further songs regularly being added.
| | |
| --- | --- |
| Cvetok, 'Die Blümlein' VWV: 1018 | Pauline Viardot |
| Ekha, 'Echo' (1965) Op. 76 no.1 | Benjamin Britten |
| Iunoshu, gor'ko rydaia, 'A youth and a maiden' (1936) Op. 46 no.2 | Dmitri Shostakovich |
| Na kholmakh Gruzii VWV 1037 | Pauline Viardot |
| Na kholmakh Gruzii ('On Georgia's Hills') (1866) Op. 3 no.4 | Nikolai Rimsky-Korsakov |
| Ne poi krasavitsa (1893) Op. 4 no.4 | Sergei Rachmaninov |
| Night (Romance - fantasia) (1864) | Modest Mussorgsky |
| Noch'yu, 'Des Nachts', 'Night' (1863) VWV: 1056 | Pauline Viardot |
| Nochnoj zefir ('Night zephyr') (1844) | Alexander Sergeyevich Dargomyzhsky |
| Predchuvstvie, 'Foreboding' (1936) Op. 46 no.3 | Dmitri Shostakovich |
| Snovidenije Op. 60 | Nikolai Rimsky-Korsakov |
| Snovidenije Op. 60 | Alexander Glazunov |
| Snovidenije | César Antonovich Cui |
| Snovidenije | Anton Arensky |
| Solovej ('The Nightingale') (1886) Op. 60 no.4 | Pyotr Ilyich Tchaikovsky |
| Solovey i roza, 'The Nightingale and the Rose' (1965) | Benjamin Britten |
| Stantsy, 'Stanzas' (1936) Op. 46 no.4 | Dmitri Shostakovich |
| Stikhi, sochinennïye noch'yu vo vremya bessonnitsï, 'Lines written during a sleepless night' (1965) Op. 76 no.6 | Benjamin Britten |
| Tu et Vous | Alexander Sergeyevich Dargomyzhsky |
| Voron, 'The Raven' Op. 52 | Nikolai Medtner |
| Vozrozhdenie, 'Rebirth' (1936) Op. 46 no.1 | Dmitri Shostakovich |
| Ya pomnyu chudnoe mgnovene ('I remember a wondrous moment') (1840) | Mikhail Ivanovich Glinka |
| Yunosha i deva, 'The youth and the maiden' | Alexander Sergeyevich Dargomyzhsky |