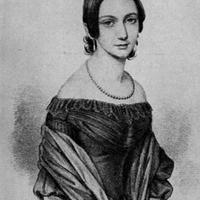 Clara Schumann
1819 - 1896
Forgotten Voices
Clara Schumann (1819-96) née Wieck is one of the most significant women in musical history. Apart from being a tremendously successful pianist and pedagogue, she wrote numerous songs alongside other works in various genres. She also transformed the reputation of her initially unsuccessful husband Robert Schumann through her determined championing.
As a girl, Clara Wieck was taught by her father Friedrich. Her mother Mariane Tromlitz was a professional-standard pianist. The marriage collapsed when Clara was a child, and only as an adult could she re-establish a relationship with her mother. Friedrich Wieck gave his daughter an exceptional musical education, including taking her to every important concert, opera, and drama in her native Leipzig, and training her in the complex business arrangements of a musical career. She gave her first performance at the Gewandhaus when she was nine years old.
Clara Schumann typically incorporated her own compositions into her concerts throughout the 1830s. In the use of bold harmonies, adventurous modulations, and rhythmic freedom, her compositions share qualities with her contemporaries from the new Romantic school such as Robert Schumann, Felix and Fanny Mendelssohn, and Frederic Chopin.
Her relationship with Robert Schumann signalled a turning point. After strong opposition from her father, they married in 1840 and embarked on a period of musical and literary study which transformed her style. However, she struggled with the pressure to be a perfect housewife and mother. During sixteen years of marriage, she bore eight children while also being pressed into Robert's service, preparing keyboard arrangements of orchestral works, playing for rehearsals and much else. After Robert's death in 1856, she threw herself back into her performing career for several reasons: firstly, her own playing was largely stifled during her marriage; secondly, she could reliably generate much-needed income; and finally, she could most effectively establish her husband's legacy. She eventually settled in Frankfurt. 
Clara Schumann gave three songs ('Am Strande', 'Volkslied', and 'Ich stand in dunkeln Träumen') to her husband on their first Christmas together. These were followed by four songs, three of which were incorporated in a joint collection (published as Robert Schumann's op.37 and her op.12) and several independent opuses. Although not numerous, her Lieder are expressive and powerful contributions to the genre, ranging from lyric to dramatic in style. Her accompaniment textures are varied and can be virtuosic, such as in 'Walzer' and the magnificent 'Loreley'. Her melodies often display great elegance alongside an innate understanding of the voice. Formally, she was innovative, experimenting with phrase lengths and layers of texture. Her 'Geheimes Flüstern' from op.23 is one of the finest 19th-century Lieder ever composed.
Clara Schumann's taste in song poetry heavily overlapped with that of her husband and many other contemporaries. For instance, her favoured song poets, Heinrich Heine, Emanuel Geibel, and Friedrich Rückert, were all important contemporaries whose verses were frequently set. Perhaps more than any other woman composer, Clara Schumann is established in the song repertoire. A complete edition of her songs appeared in 1990 and there are numerous recordings.
© Natasha Loges, 2022
SCORES
Many scores for Clara Schumann's work are available to view here.
Where can I listen to Clara Schumann's songs?
Listen to Clara Schumann's 'Loreley' (Lorelei) here on Spotify.

'Lorelei' performed at the 2021 Festival. Filmed by TallWall Media. 
'Warum willst du and're fragen?'.  Filmed by TallWall Media. 
'Die gute Nacht'. Filmed by TallWall Media.
'Liebst du um Schönheit'.  Filmed by TallWall Media. 
'Der Mond kommt still gegangen'
'Der wanderer in der Sägemühle'
'Geheimes Flüstern'
Song List
This list is likely to be of songs that have been performed at Oxford International Song Festivals and Oxford Song events, and may not be comprehensive of this composer's compositions. This database is ever growing as a work in progress, with further songs regularly being added.