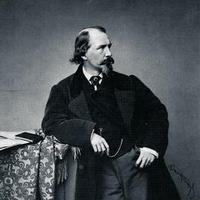 Emanuel Geibel
1815 - 1884
Emanuel von Geibel , German poet and playwright.
He was born at Lübeck, the son of a pastor. He was originally intended for his father's profession and studied at Bonn and Berlin, but his real interests lay not in theology but in classical and romance philology. In 1838 he accepted a tutorship at Athens, where he remained until 1840. In the same year he published, in conjunction with his friend Ernst Curtius, a volume of translations from Greek. His first poems were published in a volume entitled Zeitstimmen in 1841. In 1842 he entered the service of Frederick William IV, the king of Prussia, with an annual stipend of 300 thalers; under whom he produced König Roderich (1843), a tragedy, König Sigurds Brautfahrt (1846), an epic, and Juniuslieder (1848), lyrics in a more spirited and manlier style than his early poems.
Taken from Wikipedia. To view the full article, please click here.
Song List
This list is likely to be of songs that have been performed at Oxford International Song Festivals and Oxford Song events, and may not be comprehensive of this composer's compositions. This database is ever growing as a work in progress, with further songs regularly being added.
| | |
| --- | --- |
| Abendfeier in Venedig | Clara Schumann |
| Ach, wie lang die Seele schlummert! (1890) no.8 | Hugo Wolf |
| Alle gingen, Herz, zur Ruh (1890) no.31 | Hugo Wolf |
| Bedeckt mich mit Blumen (1890) no.36 31.iii–3.iv & 25.xi.1849 | Hugo Wolf |
| Bedeckt mich mit Blumen (1849) Op. 138 no.4 31.iii–3.iv & 25.xi.1849 | Robert Schumann |
| Blaue Augen hat das Mädchen (1849) Op. 138 no.9 31.iii–3.iv & 25.xi.1849 | Robert Schumann |
| Botschaft (1849) Op. 74 no.8 24–29.iii.1849 | Robert Schumann |
| Der Contrabandiste (1849) Op. 74 no.10 24–29.iii.1849 | Robert Schumann |
| Der Hidalgo (1840) Op.30 no.3 31.vii–2.viii.1840 | Robert Schumann |
| Der Knabe mit dem Wunderhorn (1840) Op. 30 no.1 31.vii–2.viii.1840 | Robert Schumann |
| Der Mond (1847) Op. 86 no.5 | Felix Mendelssohn |
| Der Mond kommt still gegangen (1844) Op. 13 no.4 | Clara Schumann |
| Der Page (1840) Op. 30 no.2 31.vii–2.viii.1840 | Robert Schumann |
| Dereinst, dereinst, Gedanke mein (1890) no.32 | Hugo Wolf |
| Dereinst, Gedanke mein | Edvard Grieg |
| Die ihr schwebet (1890) no.4 | Hugo Wolf |
| Die stille Lotosblume (1844) Op. 13 no.6 | Clara Schumann |
| Dunkler Lichtglanz, blinder Blick (1849) Op. 138 no.10 31.iii–3.iv & 25.xi.1849 | Robert Schumann |
| Erste Begegnung (1849) Op. 74 no.1 24–29.iii.1849 | Robert Schumann |
| Es ist verraten (1849) Op. 74 no.5 24–29.iii.1849 | Robert Schumann |
| Flutenreicher Ebro (1849) Op. 138 no.5 31.iii–3.iv & 25.xi.1849 | Robert Schumann |
| Frühlingslied (1878) Op. 85 no.5 | Johannes Brahms |
| Geh, Geliebter, geh jetzt! (1890) no.44 | Hugo Wolf |
| Geistliches Wiegenlied (1884) Op. 91 no.2 | Johannes Brahms |
| Geständnis (1849) Op. 74 no.7 24–29.iii.1849 | Robert Schumann |
| Goldne Brücken (1862) Op. 15 no.4 | Max Bruch |
| Gondoliera | Clara Schumann |
| Hoch, hoch sind die Berge (1849) Op. 138 no.8 31.iii–3.iv & 25.xi.1849 | Robert Schumann |
| Ich bin geliebt (1849) Op. 74 no.9 24–29.iii.1849 | Robert Schumann |
| Im Herbste Op. 10 no.4 | Fanny Mendelssohn-Hensel |
| In der Nacht (1849) Op. 74 no.4 24–29.iii.1849 | Robert Schumann |
| In ein Stammbuch | Max Reger |
| Intermezzo (1849) Op. 74 no.2 24–29.iii.1849 | Robert Schumann |
| Klinge, klinge, mein Pandero (1845) Op. 9 no.8 | Niels Gade |
| Klinge, klinge, mein Pandero (1881) Op. 6 no.1 | Emil Sjögren  |
| Klinge, klinge, mein Pandero (1890) no.11 | Hugo Wolf |
| Komm, o Tod, von Nacht umgeben (1890) no.34 | Hugo Wolf |
| Ländliches Lied (1840) Op. 29 no.1 30–31.vii.1840 | Robert Schumann |
| Liebesgram (1849) Op. 74 no.3 24–29.iii.1849 | Robert Schumann |
| Liebeszauber (1844) Op. 13 no.3 | Clara Schumann |
| Lied "In meinem Garten die Nelken" (1840) Op. 29 no.2 30–31.vii.1840 | Robert Schumann |
| Mein Herz ist schwer (1884) Op. 94 no.3 1883-1884 | Johannes Brahms |
| Melancholie (1849) Op. 74 no.6 24–29.iii.1849 | Robert Schumann |
| Mögen alle bösen Zungen (1890) no.23 | Hugo Wolf |
| Morgenwanderung (1846) WN429 | Fanny Mendelssohn-Hensel |
| Mühvoll komm ich und beladen (1890) no.7 | Hugo Wolf |
| Nachtlied (1847) Op. 7 no.1 12–27.vii.1850 | Johanna Kinkel |
| O wie lieblich ist das Mädchen (1849) Op. 138 no.3 31.iii–3.iv & 25.xi.1849 | Robert Schumann |
| Rheinsage (1838) Op. 8 no.2 | Johanna Kinkel |
| Russisch (1859) Op. 7 no.3 | Max Bruch |
| Schmerzliche Wonnen und wonnige Schmerzen (1890) no.28 | Hugo Wolf |
| Sehnsucht (1840) Op. 51 no.1 8–9.viii.1840 | Robert Schumann |
| Seltsam ist Juanas Weise (1890) no.13 | Hugo Wolf |
| Tief im Herzen trag ich Pein (1849) Op. 138 no.2 31.iii–3.iv & 25.xi.1849 | Robert Schumann |
| Tief im Herzen trag' ich Pein (1890) no.33 | Hugo Wolf |
| Vorwärts | Clara Schumann |
| Waldesgesang TrV75 | Richard Strauss |
| Weh, wie zornig ist das Mädchen (1849) Op. 138 no.7 31.iii–3.iv & 25.xi.1849 | Robert Schumann |
| Wer sein holdes Lieb verloren (1890) no.17 | Hugo Wolf |
| Wer tat deinem Füsslein weh? (1890) no.40 | Hugo Wolf |
| Wunden trägst du, mein Geliebter (1890) no.10 | Hugo Wolf |
| Zigeunerleben (1840) Op. 29 no.3 ?7.x.1840 | Robert Schumann |
| Zigeunerliedchen I "Unter die Soldaten" (1849) Op. 79 no.7/1 21.iv–13.v.1849 | Robert Schumann |
| Zigeunerliedchen II "Jeden Morgen, in der Frühe" (1849) Op. 79 no.7/2 21.iv–13.v.1849 | Robert Schumann |