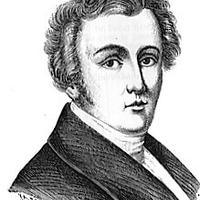 Müller, Wilhelm
1794 - 1827
Johann Ludwig Wilhelm Müller was a German lyric poet.
Wilhelm Müller was born on October 7, 1794 at Dessau, the son of a tailor. He was educated at the gymnasium of his native town and at the University of Berlin, where he devoted himself to philological and historical studies. In 1813-1814 he took part, as a volunteer in the Prussian army, in the national rising against Napoleon. He participated in the battles of Lützen, Bautzen, Hanau and Kulm. In 1814 he returned to his studies at Berlin. From 1817 to 1819, he visited southern Germany and Italy, and in 1820 published his impressions of the latter in Rom, Römer und Römerinnen. In 1819, he was appointed teacher of classics in the Gelehrtenschule at Dessau, and in 1820 librarian to the ducal library. He remained there the rest of his life, dying of a heart attack aged only 32.
Taken from Wikipedia. To view the full article, please click here.
Song List
This list is likely to be of songs that have been performed at Oxford International Song Festivals and Oxford Song events, and may not be comprehensive of this composer's compositions. This database is ever growing as a work in progress, with further songs regularly being added.