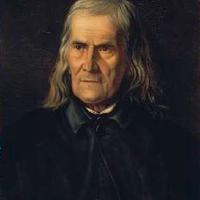 Friedrich Rückert
1788 - 1866
Friedrich Rückert was a German poet, translator, and professor of Oriental languages.
Rückert was born at Schweinfurt and was the eldest son of a lawyer. He was educated at the local Gymnasium and at the universities of Würzburg and Heidelberg. From 1816–1817, he worked on the editorial staff of the Morgenblatt at Stuttgart. Nearly the whole of the year 1818 he spent in Rome, and afterwards he lived for several years at Coburg (1820–1826). Rückert married Luise Wiethaus-Fischer there in 1821. He was appointed a professor of Oriental languages at the University of Erlangen in 1826, and, in 1841, he was called to a similar position in Berlin, where he was also made a privy councillor. In 1849 he resigned his professorship at Berlin, and went to live full-time in his Gut (estate) at Neuses (now a part of Coburg).
When Rückert began his literary career, Germany was engaged in her life-and-death struggle with Napoleon; and in his first volume, Deutsche Gedichte (German Poems), published in 1814 under the pseudonym Freimund Raimar, he gave, particularly in the powerful Geharnischte Sonette (Sonnets in Arms/Harsh Words), vigorous expression to the prevailing sentiment of his countrymen. During 1815 to 1818 appeared Napoleon, eine politische Komödie in drei Stücken (Napoleon, a Political Comedy in Three Parts) of which only two parts were published; and in 1817 Der Kranz der Zeit (The Wreath of Time).
Taken from Wikipedia. To view the full article, please click here.
Song List
This list is likely to be of songs that have been performed at Oxford International Song Festivals and Oxford Song events, and may not be comprehensive of this composer's compositions. This database is ever growing as a work in progress, with further songs regularly being added.
| | |
| --- | --- |
| An die Sterne (1849) Op. 141 no.1 | Robert Schumann |
| Anbetung (1897) Op. 36 no.4 | Richard Strauss |
| Aus den "Östlichen Rosen" (1840) Op. 25 no.25 i–early iv 1840 | Robert Schumann |
| Blicke mir nicht in die Lieder! (1901) | Gustav Mahler |
| Das Pfarrjüngferchen (1837) Op. 62-2 no.4 | Carl Loewe |
| Dass sie hier gewesen (1823) D775 | Franz Schubert |
| Der Himmel hat eine Träne geweint (1841) Op. 37 no.1 4–11 & 16.i.1841 | Robert Schumann |
| Die Blume der Ergebung (1850) Op. 83 no.2 3.iv.1850 | Robert Schumann |
| Die gute Nacht, die ich dir sage (1841) | Clara Schumann |
| Die sieben Siegel (1900) Op. 46 no.3 | Richard Strauss |
| Die Spinnerin (1877) D247 5-12.iv.1878 | Hugo Wolf |
| Die tausend Grüsse (1849) Op. 101 no.7 1–5.vi.1849 | Robert Schumann |
| Die Wallfahrt (1823) D778a | Franz Schubert |
| Du bist die Ruh (1823) D776 | Franz Schubert |
| Du bist die Ruh Op. 7 no.4 | Fanny Mendelssohn-Hensel |
| Ein Obdach gegen Sturm und Regen (1900) Op. 46 no.1 | Richard Strauss |
| Er ist gekommen in Sturm und Regen (1840) Op. 37 no.2 (Op. 12 no.1) | Clara Schumann |
| Flügel! Flügel! um zu fliegen (1841) Op. 37 no.8 4–11 & 16.i.1841 | Robert Schumann |
| Frühlingslied Op. 8 no.6 | Felix Mendelssohn |
| Gestillte Sehnsucht (1884) Op. 91 no.1 | Johannes Brahms |
| Greisengesang (1823) D778 | Franz Schubert |
| Hinkende Jamben (1837) Op. 62-1 no.5 | Carl Loewe |
| Ich atmet' einen linden Duft (1901) | Gustav Mahler |
| Ich bin dein Baum (1849) Op. 101 no.3 1–5.vi.1849 | Robert Schumann |
| Ich bin der Welt abhanden gekommen (1983) | Gustav Mahler, arranged Clytus Gottwald |
| Ich bin der Welt abhanden gekommen (G. Mahler) (1901) | Gustav Mahler |
| Ich hab in mich gesogen (1841) Op. 37 no.5 4–11 & 16.i.1841 | Robert Schumann |
| Ich hab' in deinem Auge (1844) Op. 13 no.5 | Clara Schumann |
| Ich liebe dich (1857) S315 | Franz Liszt |
| In diesem Wetter, in diesem Braus! (1904) | Gustav Mahler |
| Irrlichter (1837) Op. 62-1 no.6 | Carl Loewe |
| Jasminenstrauch (1840) Op. 27 no.4 iii.1840 | Robert Schumann |
| Lachen und Weinen (1823) D777 | Franz Schubert |
| Liebesfrühling (1853) JB 1:53 | Bedřich Smetana |
| Liebst du um Schönheit (1840) Op. 37 no.4 (Op.12 no.2) | Clara Schumann |
| Liebst du um Schönheit (1902) Op. 37 no.4 (Op.12 no.2) | Gustav Mahler |
| Liebste, was kann denn uns scheiden? (1841) Op. 37 no.6 4–11 & 16.i.1841 | Robert Schumann |
| Liebster, deine Worte stehlen (1849) Op. 101 no.2 1–5.vi.1849 | Robert Schumann |
| Lied der Braut I "Mutter, Mutter! Glaube nicht" (1840) Op. 25 no.11 i–early iv 1840 | Robert Schumann |
| Lied der Braut II "Lass mich ihm am Busen hangen" (1840) Op. 25 no.12 i–early iv 1840 | Robert Schumann |
| Mein schöner Stern! (1849) Op. 101 no.4 1–5.vi.1849 | Robert Schumann |
| Meine Töne still und heiter (1849) Op. 101 no.1 1–5.vi.1849 | Robert Schumann |
| Mit vierzig Jahren (1884) Op. 94 no.1 | Johannes Brahms |
| Morgenrot (1900) Op. 46 no.4 | Richard Strauss |
| Nun seh' ich wohl, warum so dunkle Flammen (1901) | Gustav Mahler |
| Nun will die Sonn' so hell aufgeh'n (1901) | Gustav Mahler |
| O Freund, mein Schirm, mein Schutz! (1849) Op. 101 no.6 1–5.vi.1849 | Robert Schumann |
| O ihr Herren (1841) Op. 37 no.3 4–11 & 16.i.1841 | Robert Schumann |
| O Sonn', o Meer, o Rose (1841) Op. 37 no.10 4–11 & 16.i.1841 | Robert Schumann |
| O süße Mutter (1837) Op. 62-1 no.3 | Carl Loewe |
| O süße Mutter (1850) Op. 29 no.4 | Carl Reinecke |
| O weh, des Scheidens, das er tat | Clara Schumann |
| Oft denk' ich, sie sind nur ausgegangen (1904) | Gustav Mahler |
| Rose, Meer und Sonne (1841) Op. 37 no.9 4–11 & 16.i.1841 | Robert Schumann |
| Schneeglöckchen (1849) Op. 79 no.27 21.iv–13.v.1849 | Robert Schumann |
| Schön ist das Fest des Lenzes (1849) Op. 101 no.5 1–5.vi.1849 | Robert Schumann |
| Schön ist das Fest des Lenzes (1841) Op. 37 no.7 4–11 & 16.i.1841 | Robert Schumann |
| Sei mir gegrüsst (1822) D741 | Franz Schubert |
| So wahr die Sonne scheinet (1849) Op. 101 no.8 1–5.vi.1849 | Hugo Wolf |
| So wahr die Sonne scheinet (1841) Op. 37 no.12 4–11 & 16.i.1841 | Robert Schumann |
| So wahr die Sonne scheinet (1849) Op. 101 no.8 1–5.vi.1849 | Robert Schumann |
| Süßes Begräbnis (1837) Op. 62-I no.4 | Carl Loewe |
| Tanzlied (1849) Op. 78 no.1 25.viii– 4.ix.1849 | Robert Schumann |
| Um Mitternacht (Mahler, Gustav) (1901) | Gustav Mahler |
| Und dann nicht mehr (1929) Op. 87 no.3 | Richard Strauss |
| Volksliedchen (1840) Op. 51 no.2 iii.1840 | Robert Schumann |
| Warum willst du and're fragen? (1840) Op. 37 no.11 (Op. 12 no.3) | Clara Schumann |
| Wenn dein Mütterlein tritt zur Tür herein (1901) | Gustav Mahler |
| Widmung (1840) Op. 25 no.1 i–early iv 1840 | Robert Schumann |
| Zum Schluss (1840) Op. 25 no.26 i–early iv 1840 | Robert Schumann |